If you are looking for sauna accessories to make your bathing time more relaxing or exciting (depends on your preference), this list of the best of the best will surely be a big help to you. No need to try things out on your own, we've got you covered.
We understand that purchasing something and having to return it right away once you realize that it did not fit your needs is so darn frustrating. So, we went ahead and gathered the list of the tried-and-tested ones on the market. Read on to find the most trusted sauna accessories available these days. Hopefully, you will find one that best suits you.
Our List of Highly Recommended Sauna Accessories:
This is one of the best-infrared sauna accessories nowadays. With its compact nature, this belt is considered the smallest sized Far Infrared Amethyst mat with multiple layers. It has a heating area of 18 x 8 inches. It contains 1.3 lbs of pure and natural Amethyst crystal. The belt can fit anyone with a size 24 waistline up to 48 inches. It also has 55 inches long strap.
Users have commended its beautiful design. People like it because they can control the temperature and timer easily, hence they do not worry about their safety even if they accidentally fall asleep. There are no screws that can come loose, unlike older models.
Its health benefits are plenty. It claims to boost the immune system while facilitating smooth blood circulation and enhancing metabolism. As with all the best sauna accessories, you can use it when you have muscle aches and pains. As per reviews, minor strains, back pains, and even stomach aches are well remedied by its deep penetrating heat along with the emitted negative ions. Even the happy hormones and enzymes are improved.
The best part is that it is one of the most versatile sauna accessories. You can just remove the belt attachment and place the pad on whichever part of the body you want to heal. It does not dry or burn the skin too!
Instructions in the manual are clear with many helpful tips, making its use much easier and less stressful even for beginners.
This thermometer is a definite must-have amongst all the sauna accessories. Why? It provides really accurate readings of temperature and humidity range. The unit will immediately inform you if it goes beyond the set comfort level.
The design is simple and portable. It also has a magnet at the back, so you can easily attach it just about anywhere. Despite its small size, its display is easily read. It is also very user-friendly. You can switch it from Celsius to Fahrenheit just by holding the button for two seconds.
A lot of users said that it's very easy to use and operate. They like the large font in it because they can easily view it even from a distance! The stand and its magnet make it even more portable. It worked well even in an indoor greenhouse with an average temperature of 80 F and a humidity that is as high as 95%. Other monitors could not tolerate this kind of environment.
This backrest is downright comfortable. As a sauna accessory, it does a great job making the sauna look really inviting. The best part is it is not easily movable, unlike other similar sauna accessories. It is pretty secure and is under a fairly reasonable priced. However, if you need to adjust it, you can easily manipulate it into an angle you can relax on.
As per reviews, they are very smooth, well-constructed, and ergonomically shaped. Users like how it feels against their back. It really made them feel more comfortable while sitting in the sauna. It can fit very well in a one-person sauna with room to spare.
This backrest is good value for money. It has exactly the same design and functionality with the items that you can see in specialty sauna shops that were twice its price! That makes this product even more special!
Another best seller from the MediCrystal infrared sauna accessories, its main feature is its thick layer that contains natural and pure (meaning unpainted and untreated Uruguayan Amethyst crystals and natural Black Tourmaline that originates in China (Lingshou county, to be precise). These gems are placed inside red tubes that make up the surface of the mat. These are pretty visible and can be seen in the V-shape window.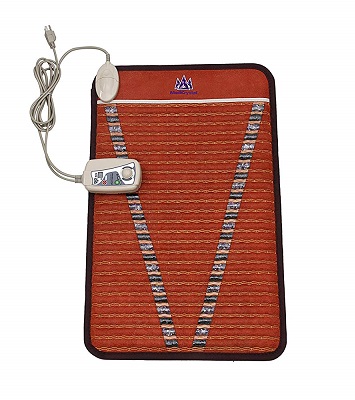 Portable and perfect for focus therapy, this is one of the sauna accessories worth investing in. The crystals it possesses emits negative ions and the deep infrared penetrating heat can help the body from any tension and stress, emotionally and physically. Overall, it can promote a very healthy well-being.
There are a few FDA-approved sauna accessories, and this is one of them. It promises to help joint and muscle aches, as well as arthritis of different types. Insomnia can also improve when this far infrared mat is constantly used.
If you want to detoxify your body and improve your lymphatic system, this is probably the best sauna accessory to have. For the weight watchers out there, this can burn fat, boost metabolism, and control weight.
When switching to high temperatures, it can help get rid of chronic maladies and serve as a good aid for cancer patients. At lower temperatures, it can improve sleep habits.
Users like this product because it's very comfortable to use. They can breathe normally and clearly while on it, unlike other products. The effects last long too.
This mat is being used by many doctors with their clients and the responses were all positive.
This is definitely worth the purchase.
This is one of the simplest infrared sauna accessories, it is purposely used for heat lamp therapy and saunas. This bulb makes use of incandescent near-infrared light therapy. The vasodilating effect and enhanced metabolic activity associated with this near-infrared bulb brings many advantages to a person exposed to it. The benefits include increased production of collagen leading to improved skin elasticity, increased fat loss, speedy recovery and healing from injury, and pain alleviation.
It is guaranteed safe, without UV, Teflon, mercury vapor or other similar toxic substances, it also has no fluorinated fumes and FAR infrared!
As per users, near-infrared light therapy can give you fast relief! Many were satisfied with its effect after a single use. By using it for around 15-20 minutes a few times weekly, users say that the therapeutic heat from this kind of bulb has helped reduce their wrinkles tremendously!
People use this bulb to treat several medical conditions. Based on actual client reviews, it worked really fast against sprains and strains. As per review, alleviation from sciatic nerve pain for more than a year was experienced with this near-infrared bulb within a week! Amazing, isn't it?
It is also long-lasting, with a lifespan of up to two years. Not bad for an affordable light bulb with so many therapeutic benefits.
This large panel heater is made of quality carbon fiber, making it one of the most effective infrared sauna accessories for any DIY sauna.
The heaters can emit radiation at around 4-14-micron range. This is the spectrum that can match the body's energy absorption. Compared to ceramic tube heaters, the carbon fiber distributes heat evenly and does not burn. This infrared sauna heater can reach a temperature of about 190 degrees, compared to other standard sauna heaters that reach excessive temperatures, losing the capability of penetrating deeper at the cellular level.
Infrared heaters do not warm up the air. It only affects the body, so you get to sweat more even at lower temperatures. Since it can get pretty deep into the muscles, it is great in healing injuries, joint problems, and tissue-related diseases.
Aside from its many benefits, users also love this product because it is very easy to install and will work well even for DIY.
The best part? It comes with a lifetime warranty.
The Wrap:
These sauna accessories come highly recommended from the experts and regular users of infrared products. They may not come cheap, but if you want to optimize your health and take your infrared experience to the next level, then they are a guaranteed worthy investment.
---
Disclaimer: This article is not intended to provide medical advice, diagnosis or treatment. Views expressed here do not necessarily reflect those of Infrared Sauna World or its staff.